Hiking weekend away, South Downs - Further Information
by shh-admin
This page give further event details of the hiking weekend away - Hiking weekend away - South Downs, to help you to prepare for the weekend. This is to be read in addition to the event details on Meetup
The starting and ending date and time are shown in the event details on Meetup.
What we'll do
Spend a weekend hiking in the South Downs National Park. Leave early Saturday morning, hike Saturday and Sunday, return Sunday evening. Stay Saturday night at YHA South Downs.
For most weekends away, we would normally leave Friday evening but for this particular weekend, we are making an early start Saturday morning. We plan to arrive at South Downs around 10:15 a.m. and start the hike around 10:30
COST AND PAYMENT
The advertised cost of £22.99 is for:
one night bed only accommodation but the price when we actually booked is lower (£17.25) as we were able to book at the YHA January Sale price so there will be some refund if you paid £22.99. There is a further £3 reduction for members of YHA England & Wales (or another Hostelling International association) but this could only be claimed at the time of booking.
There is no separate event charge but you are invited to make a voluntary donation of £1 per day (total £2) towards the running costs of this Meetup Group.
Not included:
Breakfast or other meals
Transport
TRANSPORT TO SOUTH DOWNS
Train to Southease Station, 5 minutes walk from hostel. There is no street lighting so if it is dark when you go back to the station on Sunday, you will need a torch. As it is only about 5 minute walk, a mobile phone torch may last long enough (if the battery is fully charged).

Own car or car sharing, 103 mls each way (via M25) plus 10 mls for local trips (if any) = 216 mls total. For car sharing, suggested contribution to driver is 216 mls @ 7.5p = £16.20 return for each passenger plus a share of any parking cost.
CAR PARKING
There is free car parking at YHA South Downs. The car park is behind the hostel, the courtyard area is for disabled parking only.
ACCOMMODATION
We stay at YHA South Downs a refurbished Sussex farmhouse on the South Downs Way, opened in 2013. There is free Wi-Fi.
YHA South Downs,
Itford Farm,
Beddingham,
Lewes
East Sussex
BN8 6JS
OS Grid Ref: TQ433055
Lat/Long: 50.831591, 0.034021
MEALS
The price for this weekend includes one night accommodation bed only. You can either have breakfast for an extra charge or you can prepare your own breakfast in the self-catering, communal kitchen.
You can prepare your own packed lunch in the self-catering, communal kitchen or you can order a YHA packed lunch.
Evening meals are available at South Downs or it would be possible to eat out at a pub. There is a pub in Rodmell which is 2 km away but we haven't booked anything. Alternatively, you can prepare your own evening meal Saturday evening in the self-catering, communal kitchen.
There are no shops nearby to buy food for Sunday breakfast, Saturday and Sunday packed lunches or Saturday evening meal, so if you prepare your own food, you will need to take all food with you.
ARRIVAL TIME SATURDAY
Reception at YHA South Downs opens 17:00, closes 22:00. When we arrive Saturday morning, we won't be able to check in for Saturday evening so we need to check in after the hike on Saturday afternoon.
As we are not booked in for Friday night, we don't have a right to go into the hostel and use the facilities Saturday morning although if we ask then they will probably give us permission. The Courtyard Café is in a separate building and there are toilets in the foyer. We won't have access to the self-catering kitchen to put our food in the fridge until we check in Saturday evening so it is advisable to bring food that will keep.
When we book in, you will need to take some form of ID, (see below).
CANCELLATIONS
In the event of any cancellation, we can't get any refund from YHA because we used the January Sale discount code and bookings are non-refundable. If you are included in a booking with others, then a refund would only be available if someone else of the same gender takes your place. If you booked yourself in as one individual then it wouldn't be possible for anyove else to take your place because the booking is for a named person only.
HIKING PLANS
These are the hikes that are planned but the plans may be changed if necessary, e.g. due to adverse weather conditions. The map below shows 5 different routes that we can choose from. A few printed copies will be available on the weekend.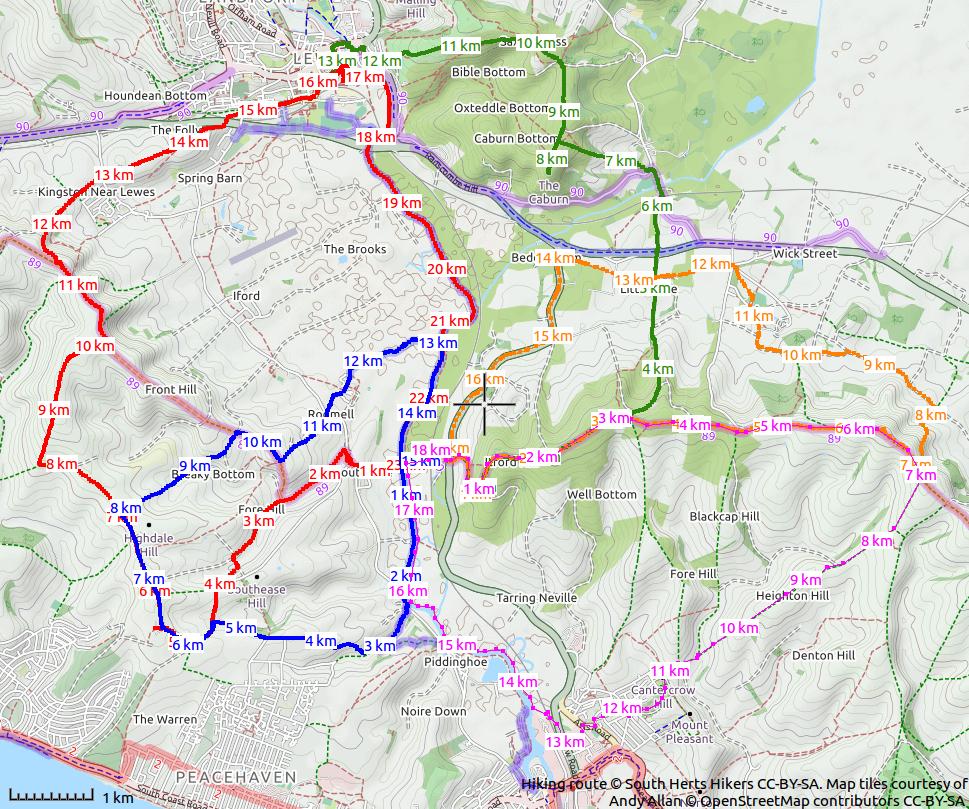 Hiking routes near YHA South Downs
Saturday
Red route starts at YHA South Downs, goes southwest along the South Downs Way and finishes at Lewes station after 16.5 km (10.25 mls). Then take the train one stop from Lewes to Southease. Although it is possible to walk all the way back to YHA South Downs, it is an extra 4 miles and there probably isn't enough time to walk all the way back in early February before sunset at 17:05.
Orange route starts and finishes at YHA South Downs. It starts off going East along the South Downs Way then northwest via West Firle and Beddington. The last 3 km (2 mls) is along the wide verge of the A26 as there is no other north-south walking route. Total 17 km (10.6 mls)
Purple route starts and finishes at YHA South Downs. It starts off going East along the South Downs Way then southwest towards Newhaven then north along the riverside path. Total 18 km (11.2 mls).
Sunday
Green route starts at YHA South Downs. It starts off going East along the South Downs Way then north down into the valley via Glynde and up onto the Downs again above Lewes. Hike finishes at Lewes station after 13 km (8.1 mls). Then take the train one stop from Lewes back to Southease or go home from Lewes if travelling by train.
Blue route starts and finishes at YHA South Downs. It goes south along the riverside path then turns West and joins the South Downs Way for a short distance. It then turns northeast via Rodmell then south along the riverside path back to YHA South Downs. Total distance 15 km (9.3 mls) although this can be shortened by taking a more direct route back from Rodmell.
Before leaving for home on Sunday, we may have time for afternoon tea in Lewes or in the Courtyard Café at YHA South Downs.
Maps
If you want to bring Ordnance Survey maps to follow the routes, OS Landranger (1:50,000) Sheet 198 covers the red, blue and green routes and nearly all of the orange and purple routes apart from a few km in the east.
For the more detailed O.S. Explorer 1:25,000 maps, you would need two sheets, 122 and 123 to cover all the routes. These may be available from a public library.
PLACES OF INTEREST
South Downs National Park
YHA web page for YHA South Downs
What to bring
For the weekend
Overnight bag or rucksack with wash kit, night clothes, change of clothes. Towels are not provided at YHA accommodation. For further details, please see South Herts Hikers Info Page 'C' Staying in YHA Accommodation.
For the hikes
You need hiking boots with good grip (footpaths may be steep, slippery or muddy in places), suitable outdoor clothing for weather conditions including an extra layer to put on for outdoor stops and a waterproof jacket in case it rains. All the hikes go up onto the South Downs and although it is not very high at up to 217 m it could be wet and/or windy up there. Drink and packed lunch essential. Further details on South Herts Hikers Info Page 'A' Lowland Hikes
Important to know
Mobile phone coverage
Mobile network operators quote figures for network coverage such as 98% but this is a percentage of the population, not a percentage of the land area, which is much less. In rural areas where we like to go hiking, mobile phone network coverage may be patchy and in some places non-existent. This is caused by hilly terrain, deep valleys and few mobile phone masts on the tops of the hills in national parks and areas of outstanding natural beauty!
Even where there is mobile coverage, it may only be outdoors, not inside a building with thick stone walls and it may only be GSM (2G) not 3G or 4G. This means that the Meetup app or anything else that requires fairly fast Internet access may not be usable if it only has a GSM data service available.
The Meetup app only works when it has an Internet connection, otherwise you can't even read previously received Meetup messages. We recommend that the most reliable form of mobile phone communication on a weekend away is SMS text message. The event organiser will give a mobile phone number to everyone on the weekend.
ID Required
You need to bring a suitable form of ID, see Section 3 of YHA Booking terms and conditions section 3.
Details last updated Mon, 20 Jan 2020, 12:23 PM