Info Page 'C' - Staying in YHA Accommodation
by shh-admin
This page tells you about YHA accommodation that we use on weekends away

First row: YHA Danywenallt South Wales, YHA Coniston Coppermines Cumbria, YHA Ravenstor Derbyshire. Second row: YHA Dalby Forest North Yorkshire, YHA Wilderhope Manor Shropshire, Derwentwater Independent Hostel Cumbria (not YHA)
On hiking weekends away in England and Wales, we often stay in YHA accommodation or similar in national parks, by the coast or in areas of outstanding natural beauty. The photo above shows some locations that we may visit.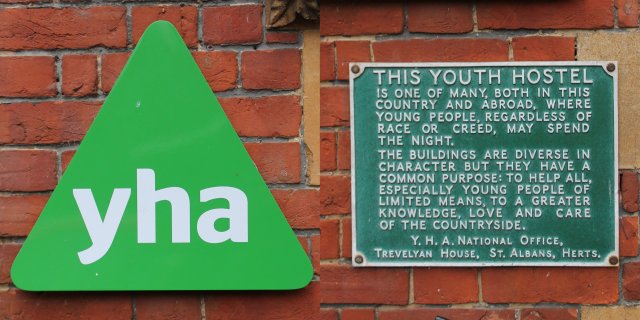 The current YHA sign and an earlier sign that states the charitable objectives of YHA
YHA accommodation is used by people of all ages and families. The cost of YHA accommodation is usually lower than most other types of accommodation in the same area.
Bedrooms
Rooms normally sleep 4 - 6 in bunk beds although some rooms may have 8 or more beds. At some locations, a few 2-bed rooms are available but these need to be booked far in advance.
In some cases we book private rooms for our group only and in other cases, rooms may be shared with others outside our group. In YHA accommodation in England, Wales and Scotland (SYHA), all rooms are single sex except family rooms. If we book a 2-bed private room, we can allocate this to a couple.

A typical 6-bed YHA dormitory
All bedding is provided including duvets, pillows and freshly laundered bed linen. There is normally a wash basin in each room, showers and toilets are along the corridor. Towels are not provided in YHA accommodation, you need to bring your own or hire one.
At some locations, rooms with en-suite shower/WC are available. Rooms can normally be locked but keys may need to be shared. There are often lockers or under-bed storage boxes that can be locked if you provide your own padlock.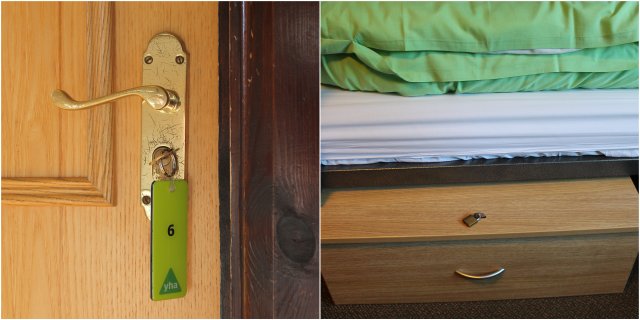 Room keys may need to be shared. Lockers or storage boxes may be provided to use with your own padlock
Lounge
There is normally a lounge or a common room.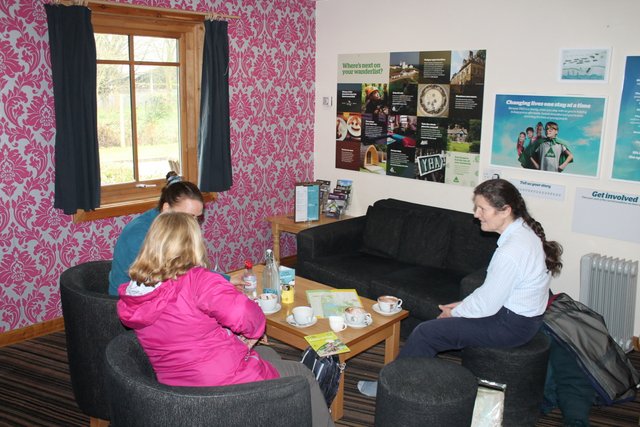 A YHA lounge area
Self-catering kitchen
There is nearly always a self-catering kitchen where you can prepare your own meals. You can also buy breakfast, packed lunch and evening meals at many YHA locations but some are self-catering only.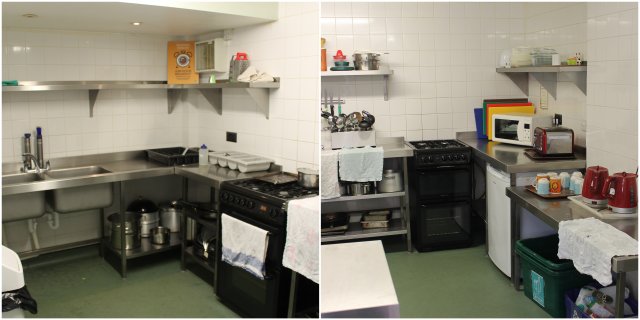 A YHA members' kitchen
Drying Room
There is normally a drying room (usually heated) to dry wet outdoor clothing or footwear and a place for storing cycles.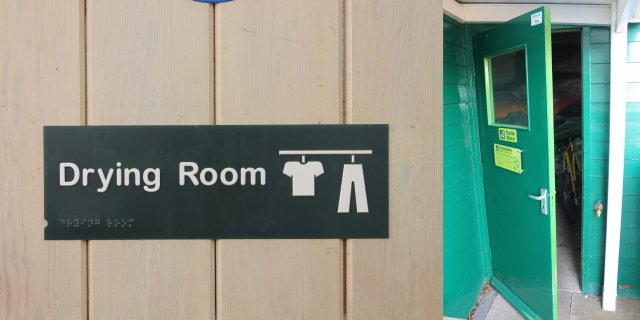 A YHA drying room and a cycle shed
Times
YHA no longer has set 'lights out' times but guests are asked to be quiet from 23:00 until 07:00. On our weekends away, we like to put lights out at 23:00 so if you go to bed later, please do not put the main light on. There are often individual bedside lights or you could use a torch. Some of us may get up any time from 07:00 onwards. We are normally ready to leave at 09:30 in the morning.