Info Page 'A' - Lowland Hikes
by shh-admin
This is for hiking in lowland and coastal areas of England and Wales, when we are not going up any hills or mountains.
What to take
Hiking boots with good grip
When hiking in the countryside, we normally prefer to use traffic-free public footpaths and public bridleways across fields and through woodland. We may sometimes come across sections of path that are muddy and slippery after wet weather, in shady woodland or in winter. Sometimes it is possible to take a detour but not always.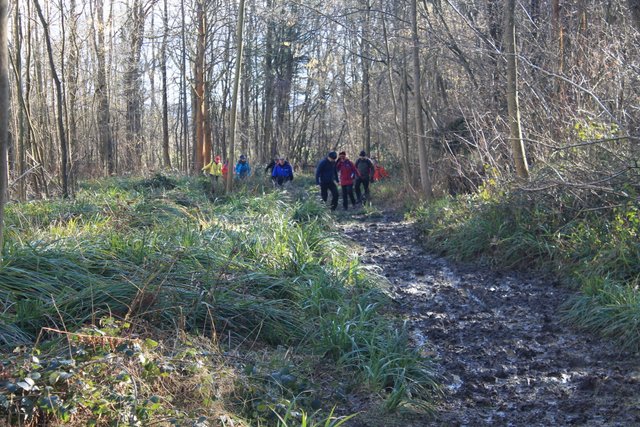 Footpaths may have muddy sections in wet weather!
For lowland hiking when we are not visiting any hills or mountains, lightweight boots are adequate as long as they have good grip on the soles. Fabric or suede boots are OK in dry weather but they probably won't keep you feet dry in wet weather or if there is deep mud or puddles.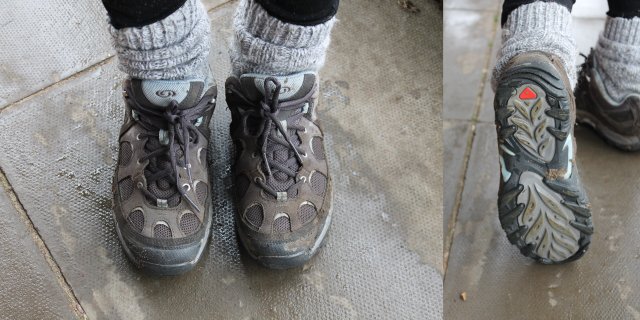 Lightweight hiking boots with fabric uppers are suitable for lowland areas in dry conditions
Fabric boots may not be waterproof even if they have a breathable waterproof lining so you may find that leather boots are better for keeping your feet dry. Some fairly lightweight leather boots are available or alternatively, you could wear strong leather boots that are also suitable for hill and mountain hiking.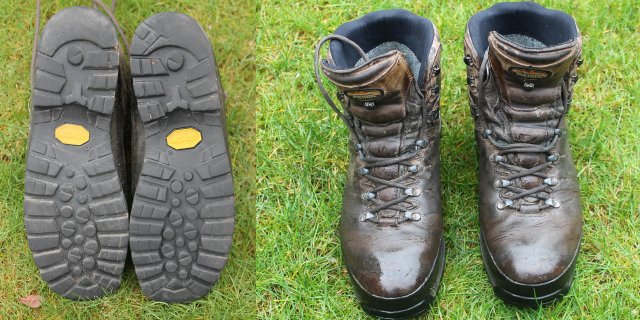 Strong leather boots suitable for hill and mountain hiking as well as lowland areas
Extra layer of clothing
When hiking with a group we are likely to have catching up stops, rest stops and outdoor lunch stops so whatever the weather, it is advisable to carry an extra layer of clothing that you can put on when we stop or wear a jacket that you can zip up.
Waterproof jacket
Rain is always a possibility any time of year! One option is to have a jacket that is waterproof and wear it all the time. This may be comfortable in cool weather but it is likely to be too warm to wear in summer if it rains. Alternatively, you could carry a separate lightweight waterproof jacket that you put on over other clothing when it rains.
Waterproof over-trousers (optional)
These are useful if you walk for a long time in rain or if you are out in heavy rain.
Gaiters (optional)
Gaiters fit over your boots and keep socks and trousers clean and dry if footpaths are muddy.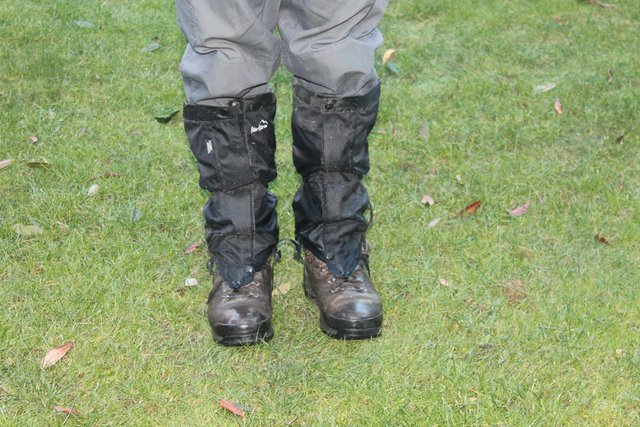 Gaiters
Drink and packed lunch
On a day hike you will need at least a litre of water and more in summer. One or more fizzy drink bottles refilled with water make good drink bottles for hiking as they are strong and leak proof.
We normally recommend a packed lunch unless we have planned and booked a meal at a pub. A rigid plastic lunch box is useful to protect your packed lunch from getting squashed in your rucksack.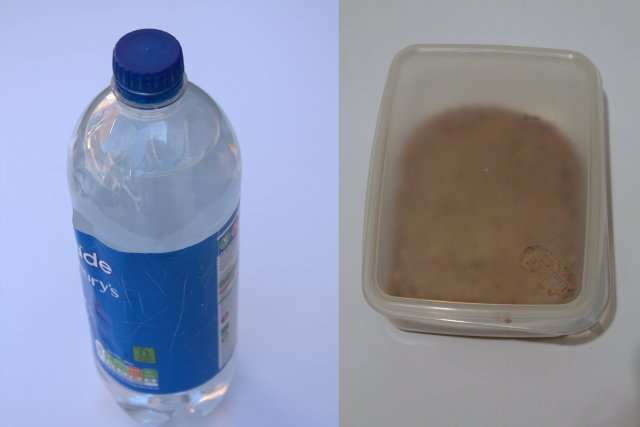 A water bottle and a rigid plastic lunch box
Rucksack
A 25 - 30 litre rucksack should be large enough for day walks in lowland country. A pack with a frame is more comfortable to carry.
On the Hike
Public rights of way
We often use public footpaths across farm land. In most lowland country there is no 'right to roam' so we only have a right to follow the exact route of the public right of way across a field, walking in single file or at most two abreast especially if crops (including grass) are growing in the field.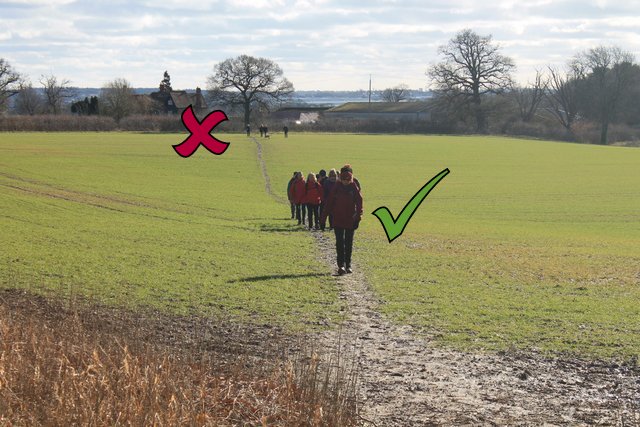 Please keep to the public right of way across fields and avoid damaging crops
Pubs and cafés
If we stop at a pub or café, please take your hiking boots off outside if they are muddy and please don't consume your own food or drink on the premises including in a pub garden.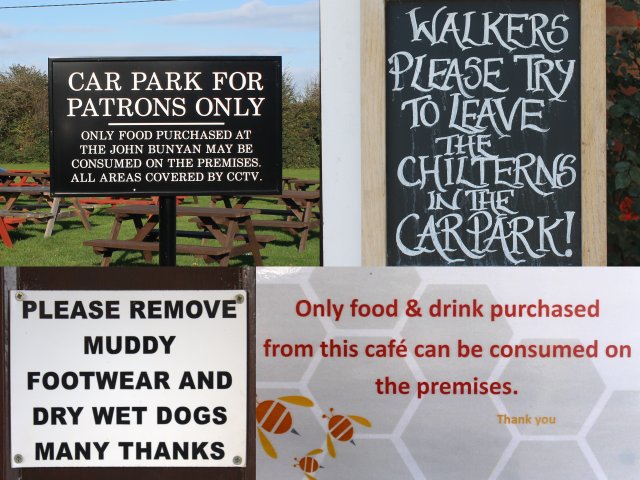 Some signs seen at pubs and cafés
Litter
Litter is bad for the environment and it can be harmful to wild life. Even if it is biodegradable like orange peel or banana skin, it is still unsightly for a long time.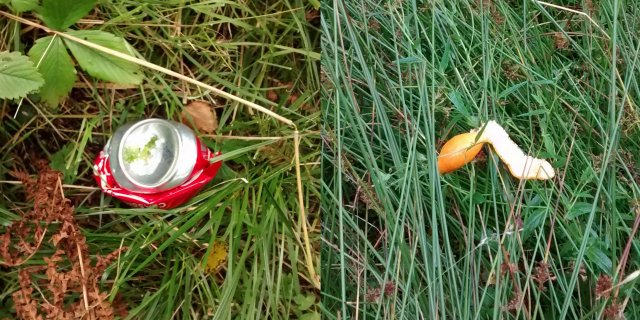 Please take your litter home
Dogs
Registered assistance dogs are always welcome. For other dogs, you can bring one well-behaved dog on one of our hikes if the hike leader agrees and if no-one else is also bringing a dog, including a registered assistance dog. Please also read The Ramblers Guide Walking with dogs
If you bring a dog on a South Herts Hikers hike, we ask you to keep the dog on a lead at all times, whether on farm land, moorland, in nature reserves or on roads. If cattle approach the dog then you should let it off the lead.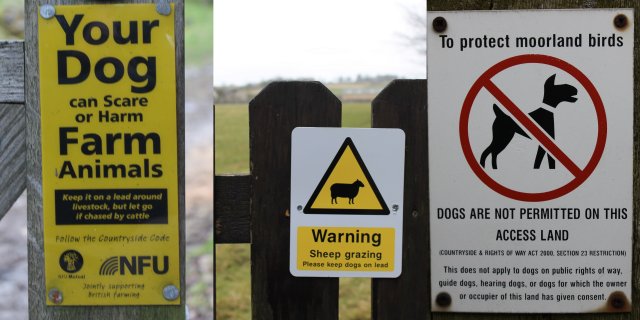 Please keep your dog on a lead at all times on our hikes