Hiking weekend away, Wilderhope Manor - Further Information
by shh-admin
This page give further event details of the hiking weekend away - Wilderhope Manor, Shropshire, to help you to prepare for the weekend. This is to be read in addition to the event details on Meetup
The starting and ending date and time are shown in the event details on Meetup.
What we'll do
Spend a weekend hiking in the Shropshire Hills Area of Outstanding Natural Beauty. Leave Friday evening, hike Saturday and Sunday, return Sunday evening. Stay Friday and Saturday nights in the historic YHA Wilderhope Manor.
COST AND PAYMENT
The cost of £33 includes:
2 nights bed only budget accommodation @ £16.50 per night. Anyone with individual membership of YHA England and Wales pays £13.50 per night but the discount can only be claimed at the time of booking.
There is no additional South Hikers event fee for this weekend.
Not included:
Breakfast or other meals
Transport
TRANSPORT TO WILDERHOPE MANOR
Church Stretton is the nearest railway station to Wilderhope Manor. Trains from London Euston to Church Stretton via Crewe. There may be a bus 540 to Longville-in-the-Dale (17:08 Friday, no Sunday service) then walk 1 mile but it is not clear if this still runs. Organisers can drive you from/to Church Stretton by prior arrangement.

Own car or car sharing (if available) with other members on the weekend, 151 miles from EN6 1AJ to TF13 6EG. If you leave South Herts area around 18:00, it should still be possible to get to Wilderhope before closing time (23:00).
If you are near the M40 then the best route would be to take the M40 then M42 south of Birmingham then A491/A458 (not M54 as it goes too far north). The M40 is likely to be less busy than the M1 and without road works. The M40 also avoids the busy section of the M6 from Junction 1 through Birmingham to Junction 10A (M54).
If you are near the M1 then the most direct route would be M1/M6/M54 but it is probably not worth taking the M6 Toll as it takes you too far north for the M54.
For car sharing the suggested contribution at our standard Group rate of 7.5p per passenger per mile is £22.65 for the return trip, plus a contribution to parking costs (if any).
CAR PARKING
There is free car parking at YHA Wilderhope Manor.
ACCOMMODATION
We stay at YHA Wilderhope Manor, a 16th-century gabled manor house in the care of the National Trust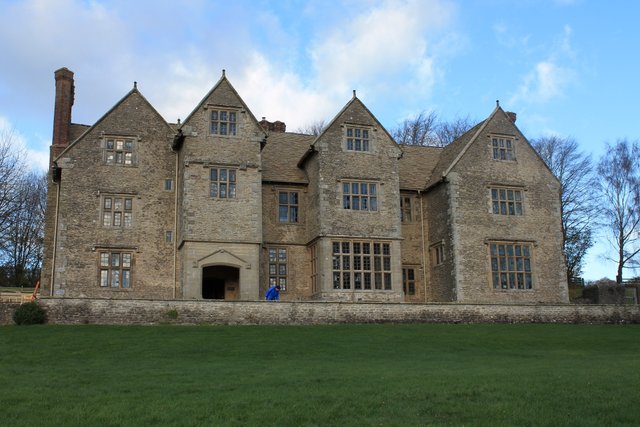 YHA Wilderhope Manor, Shropshire
This is a Grade 1 listed building so it is not possible to make structural alterations such as dividing the dormitories into smaller rooms. This means that you may be in an 8 - 10 bed dormitory and it is a bit more rustic than typical YHA accommodation with some original features including original wooden floors and doors.
MEALS
The price for this weekend includes two nights accommodation bed only. You can either have breakfast for an extra charge or you can prepare your own breakfast in the small self-catering, communal kitchen.
There are no shops nearby to buy food for a packed lunch but you can prepare your own packed lunch in the small self-catering, communal kitchen or you can order a YHA packed lunch.
Evening meals are available at Wilderhope Manor or you can prepare your own evening meal in the small self-catering, communal kitchen. There are a couple of pubs that serve food a few miles away or in Chruch Stretton. There is free Wi-Fi at Wilderhope Manor so we can consider options for Saturday evening meal when we are at Wilderhope.
ARRIVAL TIME FRIDAY
Reception at Wilderhope Manor opens 15:00, closes 23:00. If you are likely to arrive before the organiser who made the booking then you will only be able to check in if the organiser tells YHA that you are authorised to check in on his behalf. In any case, please give the weekend organiser your full name and address before the weekend so that we can book you in if we arrive before you. In any case, you will need to take some form of ID, (see below).
If you check in before 18:00 then you will probably be in time to order an evening meal if you like.
HIKING PLANS
These are the hikes that are planned but the plans may be changed if necessary, e.g. due to adverse weather conditions.
Saturday
On Saturday, we drive to Chruch Stretton and walk up onto the Long Mynd. This is an upland area of heath and moorland up to 516 m (1692 ft) above sea level with attractive valleys leading up to it.
The total distance of Saturday's hike is likely to be about 10 miles (16 km), nearly all on footpaths. There are some hills with signifiant amount of ascent and descent and it is quite exposed on the top so you will need good windproof clothing and waterproofs to put on if it rains.
Here is a photo of the Long Mynd.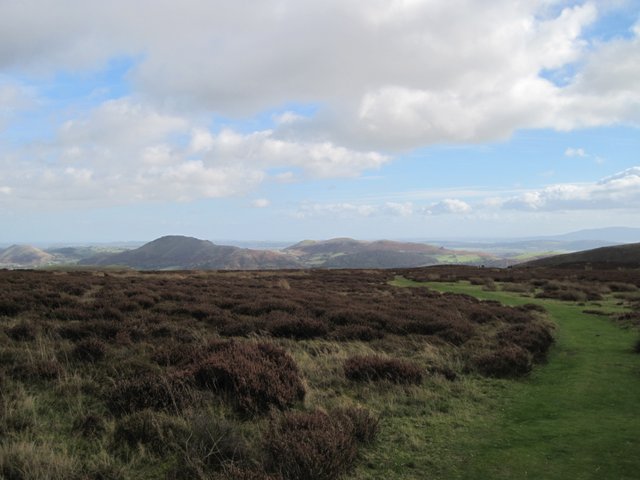 On top of The Long Mynd, Shropshire
Sunday
On Sunday, we plan to walk around Caer Caradoc Hill and surrounding area, approx. 8 miles some hills. Here is a photo of Caer Caradoc Hill.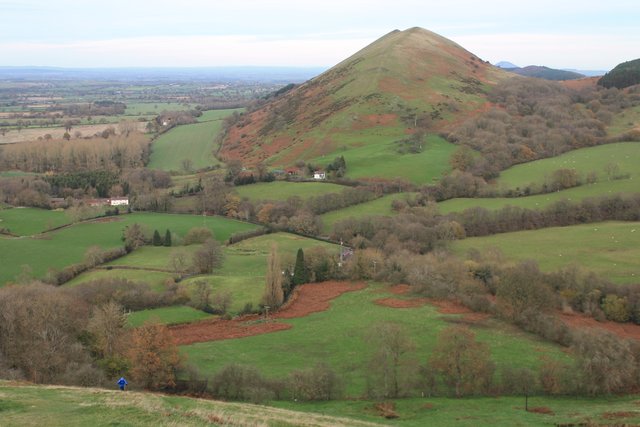 Caer Caradoc Hill, Shropshire
Before leaving for home on Sunday, we may have afternoon tea at a café or a tea shop in Chruch Stretton if there is one open.
Maps
If you want to bring Ordnance Survey maps to follow the routes, I suggest Landranger 1:50,000 sheet 137, Ludlow and Wenlock Edge.
PLACES OF INTEREST
Shropshire Hills Area of Outstanding Natural Beauty
YHA web page for Wilderhope Manor
National Trust web page for Wilderhope Manor
What to bring
For the weekend
Overnight bag or rucksack with wash kit, night clothes, change of clothes. Towels are not provided at YHA accommodation. For further details, please see South Herts Hikers Info Page 'C' Staying in YHA Accommodation.
For the hikes
Hiking boots with good grip (footpaths may be steep, slippery or muddy in places), suitable outdoor clothing for weather conditions including an extra layer to put on for outdoor stops and a waterproof jacket in case it rains. Drink and packed lunch essential. Further details on South Herts Hikers Info Page 'A' Lowland Hikes
Important to know
Mobile phone coverage
Mobile network operators quote figures for network coverage such as 98% but this is a percentage of the population, not a percentage of the land area, which is much less. In rural areas where we like to go hiking, mobile phone network coverage can be patchy and in some places non-existent. This is caused by hilly terrain and few mobile phone masts on the tops of the hills in national parks and areas of outstanding natural beauty!
Even where there is mobile coverage, it may only be outdoors, not inside a building with thick stone walls and it may only be GSM (2G) not 3G or 4G. This means that GSM data services (if any) may be slow so that Meetup app or anything else that requires fairly fast Internet access may not be usable.
We recommend that the most reliable form of mobile phone communication on a weekend away is SMS text message. The event organiser will give a mobile phone number to everyone on the weekend.
ID Required
You need to bring a suitable form of ID, see Section 3 of YHA Booking terms and conditions section 3
Details last updated Mon, 20 Jan 2020, 12:23 PM